This site had been the front runner for a while, and according to the Herald the council sealed the deal last night:
City Council members signed off Monday on the choice of a site for Durham's next police headquarters, agreeing to spend $5.7 million to buy a 4.5-acre property for it off East Main Street.
The city intends to demolish the historic Carpenter Motor Co. buildings as well as the small restaurant Not Just Wings which are presently on the site. Open Durham has an early drawing of the potential footprint.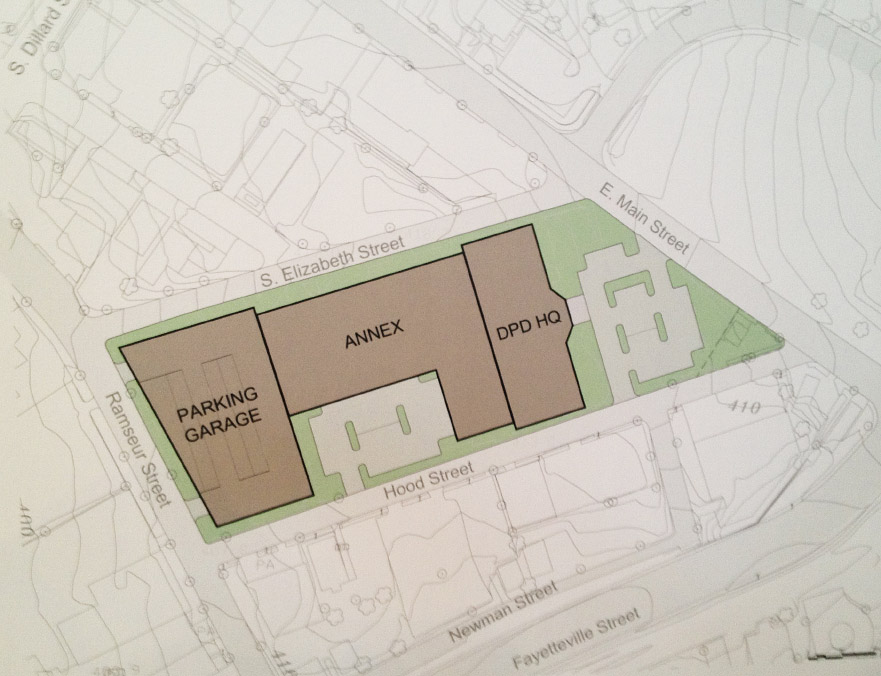 The city intends to foot the bill for the project in part by selling off the old HQ, whose last appraisal came in at $5.1M. Still, the $4.5M price tag for the new East Main St. parcel was too high for Eugene Brown who provided the lone dissent in the 6-1 vote.
This sort of structure is typically built like a fortress with limited ingress and egress points, so you could expect for the streetscape to be pretty bleak. David Arneson of Center Studio Architecture brought up such concerns on the ABCD Durham mailing list, and presented two alternate layouts:
I don't know how feasible Arneson's alternatives are, but the idea of getting a usable streetscape on East Main St. here is really compelling. Councilman Schewel did respond and allay some of the fears regarding the setback for surface parking along East Main:
Of the several "fits" we saw for the site at the council work session, none of them included a parking lot in front of the building along Main St. I feel very comfortable in saying that the City staff planning this HQ are going to make sure that that doesn't happen.
However the site ends up being developed, it's now pretty certain that it will be developed. The opportunity available to citizens now is to help ensure it's developed responsibly.
Another big question: what's going to come of the old site? As of right now, it's hard to predict, since we're still several years out. I personally have kind of an affinity for the structure, which is in a style without much representation in Durham. It's pretty safe to assume that the city will sell the site, and I really think it has the potential to be a lot more interesting than the generic student housing across the street at 605 West.